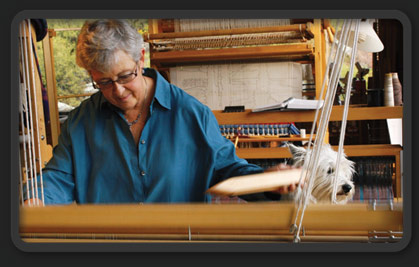 Teri's family started spending summer vacations in the Creede, Colorado area in 1950. From the time that she was a young child, Teri's dream was to live in the San Juan Mountains. The dream became a reality in 1976 when Teri and her husband, Rick, moved to Creede and opened the Bristol Inn Restaurant. Patrons enjoyed Chef Rick's fabulous cuisine for 26 years. During those years Teri also began spinning, dyeing, weaving, knitting,and marketing her work through the Bristol Inn Gallery. Though the Bristol Inn Restaurant and Gallery closed its doors in 2002, Teri's business, Bristol Yarnworks, has continued to grow.
In 2008, The Bristol Inn Restaurant became the Studios at Bristol. Bristol Yarnworks Studio moved into a beautiful space expanding to include The Studio, The Yarn Shoppe, The Loft Gallery and Workshops.
The Studios at Bristol includes Underbrush Ltd. Studio and Workspace Gallery owned and operated by Teri's sister, Kathy Killip. This eclectic studio and gallery features Kathy's nature inspired designs, angel ornaments, natural wreaths, photography, note cards, jewelry, and Demdaco gifts designed by Kathy, as well as pottery and workshops.
In 2017 The Studios at Bristol welcomed a new venue. Bristol Yarnworks Studio will be offering for sale Teri's Designer Originals and Goat Milk Soap as well as home accessories and hand-spun yarns. Other selected artists will be exhibiting artwork for sale in the Studios on the upper level as well.
It is the Mission of The Studios at Bristol to allow both artists and visitors to learn through interactive, educational exchanges using the creative process to empower their expression of creativity.